Alumni E-News
October 2020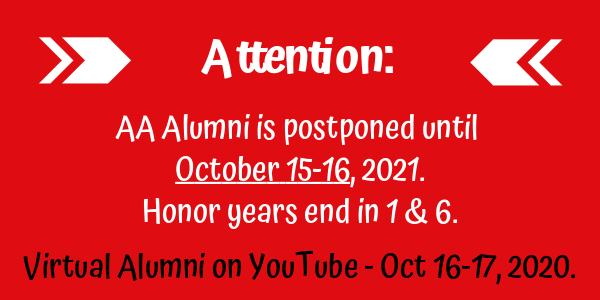 Please note (and spread the word) that due to the COVID-19 pandemic, Andrews University's leaders have set physical distancing and travel guidelines in place for Fall 2020. In order to protect the health and safety of the Andrews on-campus student population, visitor and guest access to campus (which includes Andrews Academy), as well as large group gatherings are being affected. Therefore, our annual in-person reunion will not happen this October 2020 but has been postponed until next year.

Since we have been ahead by a year with our honor classes, we will keep the same honor classes for next year: those ending in 1 & 6. We have been celebrating class reunion years the Fall prior to a class' graduation date, instead of in the Fall following their Spring graduation date. So instead of the class of 2001 celebrating their 20-year reunion in the Fall of 2020, the class of 2001 will now celebrate their 20-year reunion in the Fall of 2021. This will be similar to how Andrews University and other schools celebrate their alumni weekends.

Thank you for your understanding during this challenging time. We pray that you are doing well and look forward to seeing you at our alumni reunion next Fall!

We are planning two virtual alumni programs (all Eastern time zone) for this weekend, as well as a Zoom chat opportunity:

► Friday, October 16, 7:00 PM - YouTube and Facebook (or click on icons below)
► Sabbath, October 17, 11:45 AM - YouTube and Facebook
► Sabbath, October 17, 4:00 PM - Zoom (or click on video icon below)

Please join us for these virtual programs. You may watch these events any time after they premiere. Also join us on Sabbath afternoon on Zoom if you would like to chat with our principal, alumni coordinator, and any alumni who join us.

If you have questions, please reply to this email or contact the AA Alumni & Development Office at 269-471-6140. You can also watch our web site for updates.
Farewell to Principal Jeannie Leiterman

On July 3, Mrs. Jeannie Leiterman announced that she was resigning as principal of Andrews Academy effective August 1, 2020.

Mrs. Leiterman first began her work with us here at Andrews Academy in the summer of 2013 as vice principal. She later became our principal during the summer of 2015.
First, in her role as vice principal and then, later, as our Academy principal, our students, parents, and faculty loved Mrs. Leiterman and appreciated her style of leadership. I believe that the Andrews Academy family loved Principal Leiterman, and loved working with her, because she modeled the kind of "servant leadership" during her time at Andrews Academy that is so often lauded as a top administrative quality, but is all too rarely exemplified or seen. Mrs. Leiterman truly led Andrews Academy by example, consistently showing up to cheer, to encourage, to organize, to practice, to DO whatever needed to be done at every event and occasion here at our school.

Principal Leiterman also affirmed her team both collectively and individually, giving the faculty the confidence and cheer they needed to perform their own myriad duties as teachers and staff. She consistently encouraged our faculty, staff at Andrews Academy. She trusted them to be professionals in each one of their disciplines, and did not try to micromanage her colleagues. She always listened carefully to the concerns of the Academy's faculty and staff, and she made those colleagues part of the decision-making process.

Significantly, Mrs. Leiterman never demanded participation or allegiance from her faculty and staff, and this is precisely why she got both without asking. She knew how to inspire each one of our faculty and staff team to be better, because the faculty and staff saw how hard she worked, and as a result, they wanted to be worthy of her confidence. Our Andrews Academy faculty and staff wanted to help her. Our Andrews faculty and staff wanted to be part of her team.

Principal Leiterman also had the same influence and impact on our students, and Andrews Academy saw our student family respond and open up to her wonderful warmth and authenticity with each student.

Under Mrs. Leiterman's leadership, we enjoyed a steady increase in enrollment even as many other academies were declining. We also enjoyed greater fiscal security and increased innovations throughout our school. And perhaps most importantly, the spiritual dimension of our school program flourished, with an increased sense of stability and confidence that developed and followed among our entire Andrews Academy family, both students and faculty.

Principal Leiterman's leadership, friendship, passion and sense of heavenly mission were consistently a great gift to Andrews Academy, even and especially during times of challenge. That was especially true during our world's, and our Academy's, unexpected journey with the COVID-19 pandemic, where she showed leadership and grace as she worked together with all of our Andrews Academy family, our students, parents, faculty and staff, to create a meaningful sense of community, even as we were restricted from gathering together in person.

During this past summer, Mrs. Leiterman worked tirelessly as she and our Academy made plans for this school year, reinventing many processes and approaches to reflect and respond to the realities and threats of the COVID-19 pandemic, and the safety regulations and guidelines that emerged. She worked alongside a group of our faculty as we made these careful and safety-focused "back-to-school plans."

On behalf of the Andrews Academy Board, its faculty, staff, students, and parents, I'd like to thank Mrs. Leiterman for all that she did for our school. She left our school in better shape than when she arrived to work alongside and lead us. We will be forever grateful for this, and we join together in prayer for her as she has begun a new journey in her life as theassociate principal and registrar at Griggs International Academy in Berrien Springs.

Fares Magesa, Chair
Andrews Academy Board of Directors
Welcome Pastor Mario Ferguson, Interim Principal

On July 31, 2020, Pastor Mario Ferguson accepted an invitation by the Andrews Academy Board of Directors to serve as Andrews Academy's interim principal for the 2020-21 school year.
Pastor Ferguson has been part of our Andrews Academy family in a variety of teaching and leadership roles since 2013, and he brings with him nearly 25 years of thoughtful leadership and experience in educational and Adventist church roles.

His previous assignment as an Andrews Academy religion teacher, and as our Spiritual Life Coordinator, was accompanied by his significant leadership and support in the roles of student association sponsor, chair of our Spiritual Life and Black History committees, and his involvement in our National Honor Society chapter, in the Andrews University's Project Reach community outreach program, and more.

As we talked with Pastor Ferguson about the possibility of his serving in this new role, he shared with us how important he believes it is for the Andrews Academy principal to fully understand and effectively respond to the culture of the Academy as it relates to our faculty and staff, our students, our families and parents, our church, and our community.

We are grateful for Pastor Ferguson's passion and perspective, and we pray for God's blessings as he has taken on this crucial role.

Pastor Ferguson holds undergraduate and graduate degrees from Andrews University, including his MDiv, and a vocational technical teaching endorsement from Central Connecticut State University. Before coming to our community, Pastor Ferguson also worked as a department administrator, high school teacher, and soccer coach with the State of Connecticut's Department of Education, where he also served on the State Department of Education Steering and Curriculum committees.
Pastor Ferguson, and our entire Andrews Academy faculty and staff, worked together to guide Andrews Academy as we pursued our plans to reopen the school on August 24 to in-person and remote learning classes.

Once more, we welcome our interim principal, Pastor Ferguson, to his significant new role of leadership for our Academy family.

Fares Magesa, Chair
Andrews Academy Board of Directors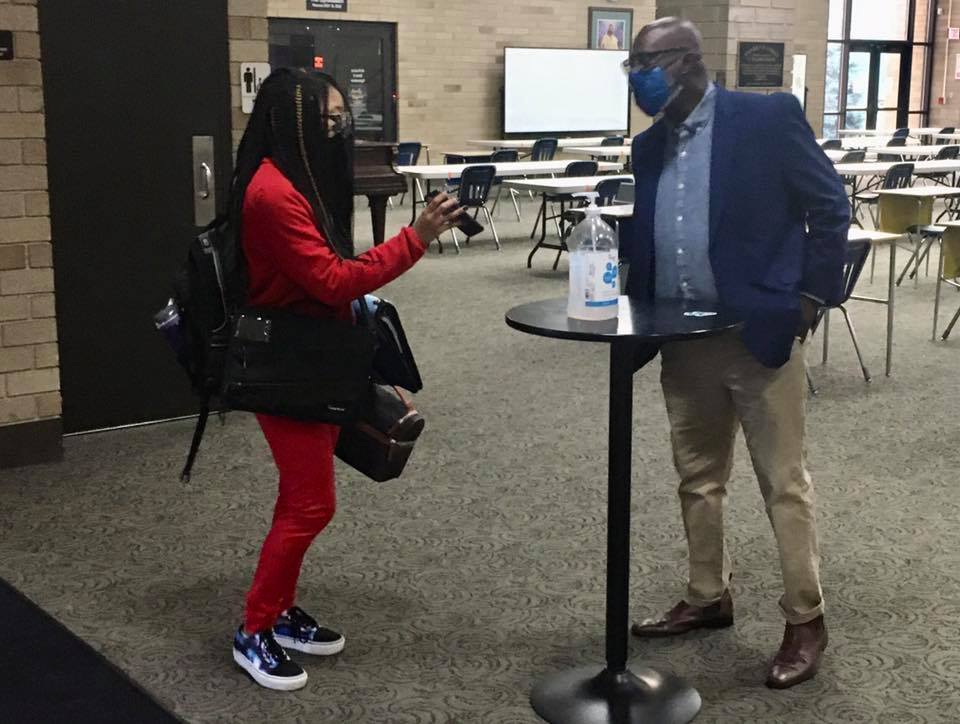 First Days of School—COVID-Style

A big thank you to Pastor Mario Ferguson, AA's interim principal, for greeting the students each day as they enter school as he does the COVID health screening that the AU campus has implemented in the midst of the pandemic. It's an app on the cell phone that Pastor Ferguson checks to see that it's completed each day. AA is the entity on campus that has been the best at faithfully completing this each day!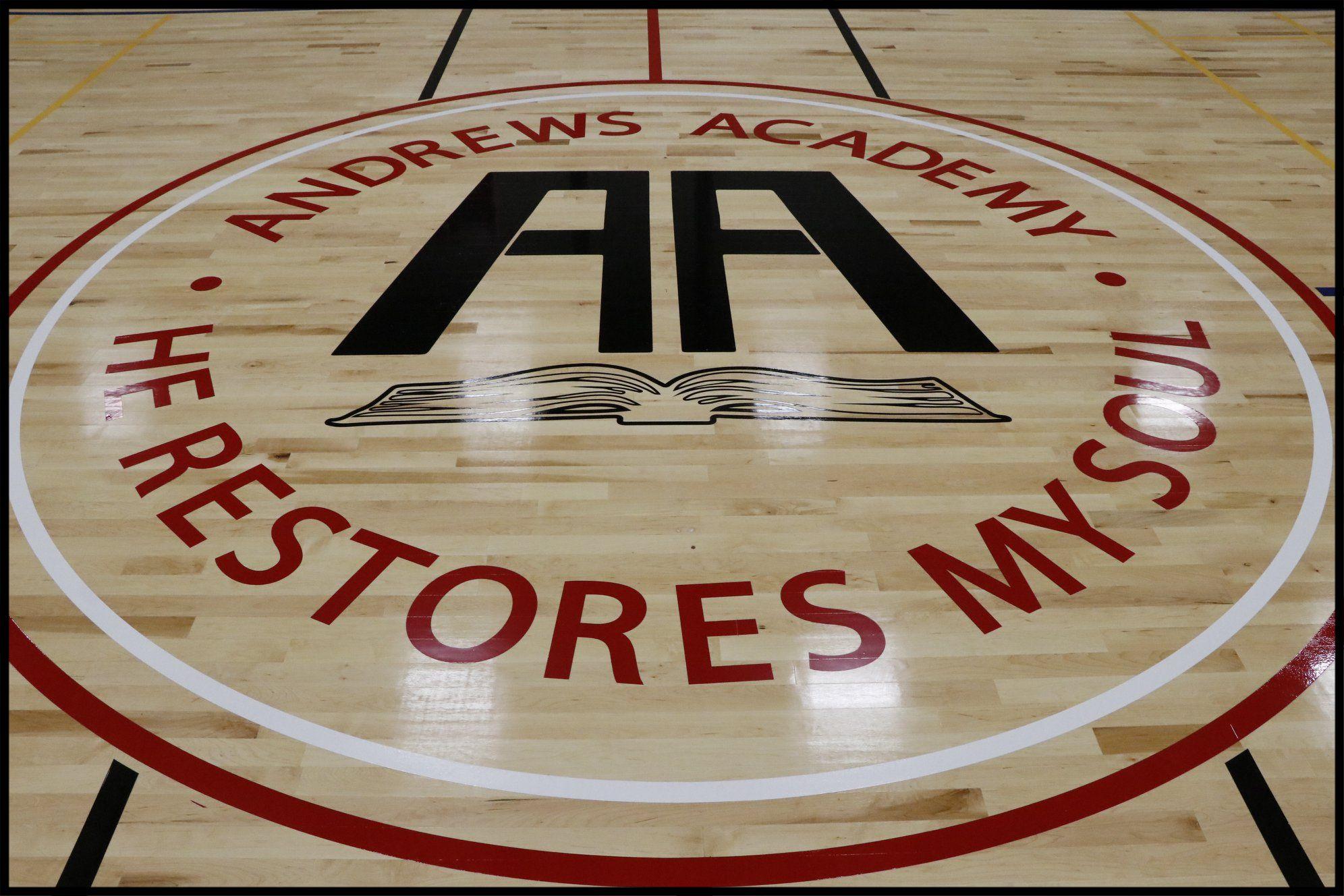 If you haven't kept up with what's happening at AA, please visit our FB page to learn more.
Reconnect at Alumni 2021
We hope that you are planning to join us from October 15-16, 2021, for our annual alumni reunion! All EMCA/AUA/ AA attendees, graduates, and their families, as well as former faculty and staff, are welcome, especially our honor classes (those that graduated in years ending in 1 and 6).
Note that submissions for the Alumnus of the Year are due by April 1, 2021.
Highlights of the Weekend:
► Vespers on Friday evening
► Teacher Legacy Award (Cleon White) and Alumnus of the Year (TBD) citations, and roll call of honor classes and decades during Sabbath School
► Worship Convocation on Sabbath, planned by the Class of 1996
► Honor class photos and a haystack fellowship lunch
► Hanging out with friends on or off-campus
► Shydepoke on Saturday evening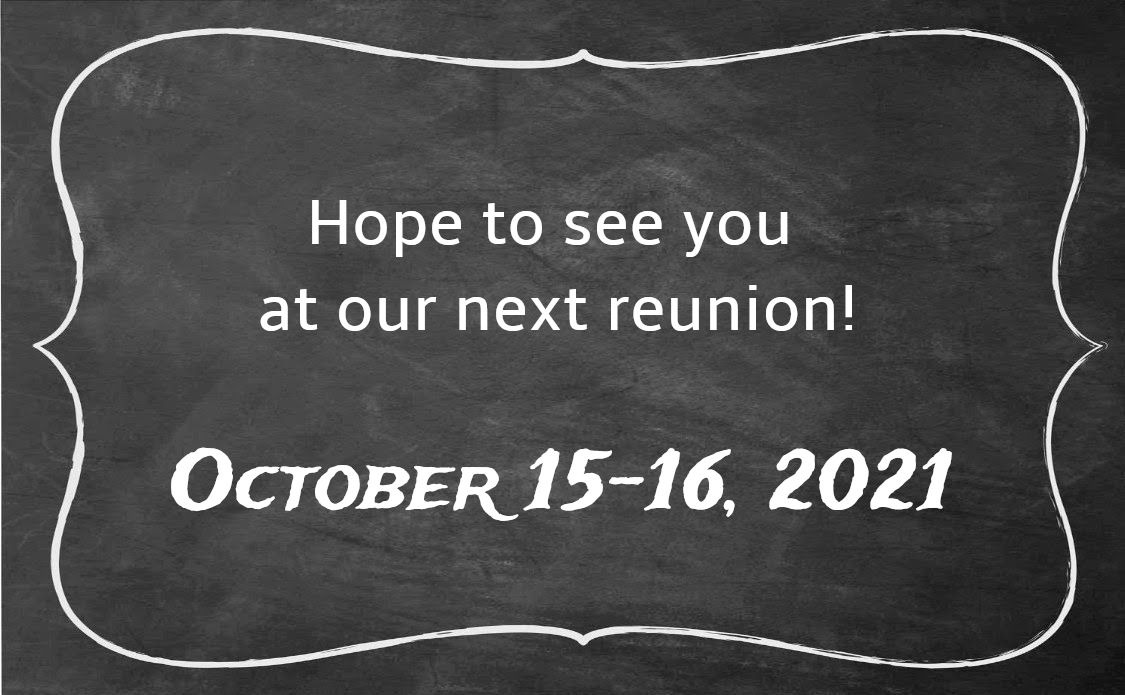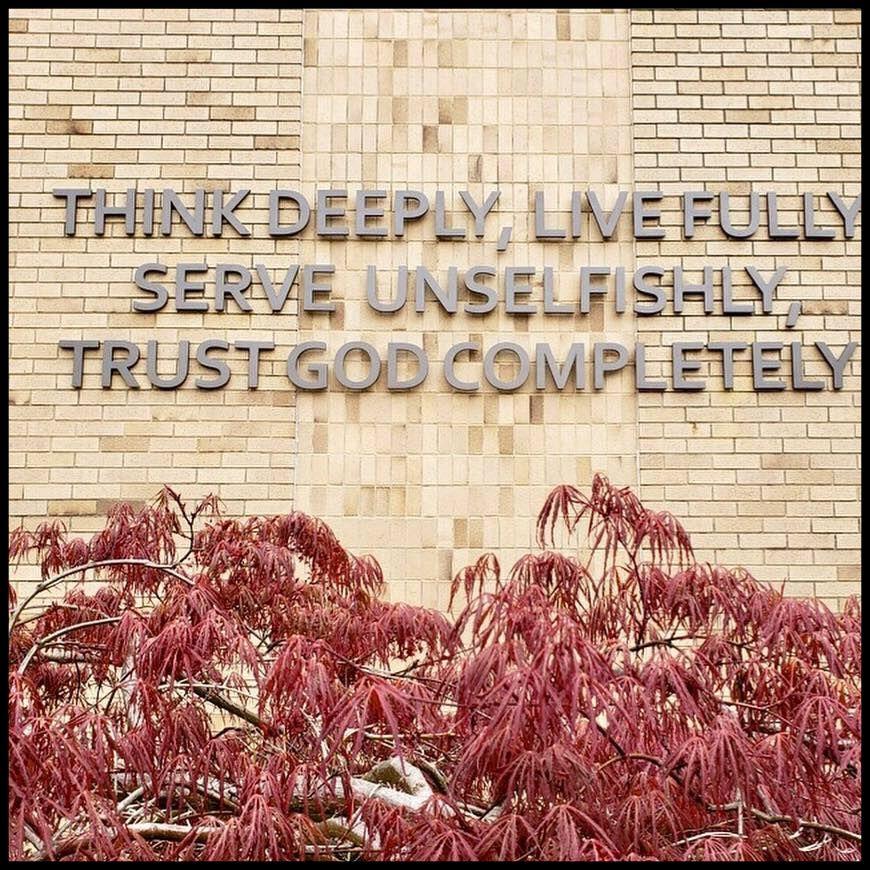 Watch our web site for more details about the weekend!
Continuum Magazine
The Spring 2020 issue of our alumni magazine, Continuum, is on our web site. It has stories about students' activities, alumni news, pictures, and details of the 2018 alumni weekend, a tribute to Knobby Mauro, and more. Due to COVID-19, it has not been printed at this time.
There is an Andrews Academy group on the Andrews Network, so please join the group so that we can interact and network as an AA family as well!

Thank you to Andrews University for including Andrews Academy as part of their network!

If you attended or graduated from Andrews University, or if you worked at AA or AU, please join the new Andrews Network.

The Andrews Network is a free mentoring, networking, and job posting platform exclusive to the Andrews community. Click on the link to sign up and to learn more about the benefits of joining, including reconnecting with classmates, expanding your network, and (once this is launched soon to the AU student population) the optional opportunity to help a current AU student out through mentoring.
Wanted: Alumni News
Have you recently graduated, gotten married, had a baby, changed jobs/got a promotion, published a book, or know of an AA attendee/graduate/ former staff that has passed away?
Please share your news with us, including a picture if you would like, for inclusion (as space permits) in the AA alumni magazine, Continuum.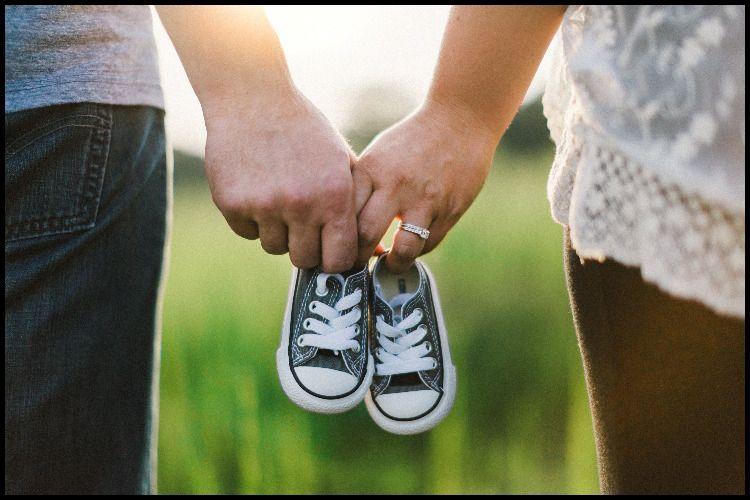 We welcome changes in contact information also! Please email news and contact updates to aaalumni@andrews.edu. Or update your information by clicking on the Update your info button.
You are invited to partner with us!

During this time of uncertainty, we are continuing to do all that we can to fulfill our commitment to provide Christian education and academic excellence to our students.

Your support of our general scholarship and worthy student fund helps make it possible for students to attend AA that otherwise would not be able to without partners like you.

Donations to our worthy student fund, annual fund, renovation fund, and many others can be made at any time. Thank you for your continued investment in quality Christian education at AA!
Gina Meekma, Coordinator
Alumni & Development

Andrews Academy
8833 Garland Ave
Berrien Springs, MI 49104

296-471-6140
or
269-471-3138